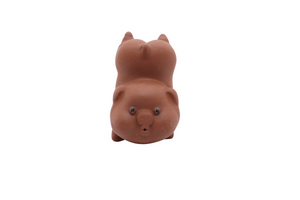 Pigs symbolize good fortune and prosperity, and Acrobatic Pig makes the perfect gift (or self-gift) for those seeking wealth in honest yet non-traditional ways.
About zisha tea pets
A tea pet is a miniature clay figure that can help liven your daily tea ritual. Handcrafted from unglazed zisha clay (also known as "yixing"), tea pets are similar to the beloved yixing teapots in that they will absorb the natural oils of your tea over time. Tea pets are excellent at keeping you company as you brew gong fu style. They also serve as a symbol for good luck.
Instructions
Nourish your tea pet with the first steep (for example, the flash rinse required for pu'er and oolong teas) or with leftover tea. Do not wash with soap. When nourishing with tea, make sure to completely cover the body of your pet. We recommend sticking to a single tea type per pet (for example, only oolong). It will develop a lovely scent over time.
Made in China