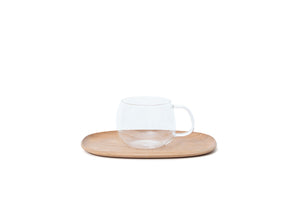 This darling, modern teacup is transparent, ready to display all the flowering beauty of steeping tea. Pair with our teapot.
*Tea tray sold separately 
Specs
Holds: 12 oz / 350 ml
Material: heat-resistant glass
Microwave and dishwasher safe
Incredible as usual!
Thank you for carrying Kinto and partnering with Shop app. This gift was very quick and easy to track, and packaged very neatly! This cup is the very best for slow morning coffee sessions and any other beverages to leisurely sip. It sustains fluids at a hot temperature for a decent time, and the sleek look of these cups also helps the olfactory to taste better. Very pleased thank you!
Beautiful Glass Teacup
I've always loved the aesthetic from Paru Tea Bar so its only natural that they'd offer such beautiful glass tea cups from Kinto. It's just so well made and my favorite. It's easy to clean and just really beautiful. Nicely paired with my Hario ChaCha.