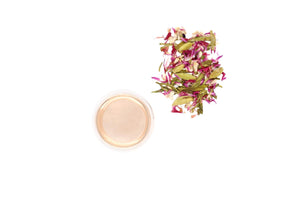 Inspired by the elegance and beauty of the rabbit, this year's Lunar New Year blend features pan-fired green tea (Dragonwell), subtly sweet amaranth, and a pop of zesty citrus from cardamom. Gentle yet complex, this pink-hued blend strikes the perfect balance for your next afternoon tea. Pair with mooncakes or scones.
Details
Origin: PARU Tea Lab

Blender: Amy Truong

Hand-blended in small batches in the PARU Tea Lab in San Diego.



Ingredients: green tea, globe amaranth, pink marigold, green cardamom
Caffeine level: moderate
—
What is a reserve tea? Reserve teas are teas that offer in limited quantities due to the availability of the tea itself.
Love Pink Rabbit
This is a wonderful tea to enjoy in the afternoon…no caffeine. It's also beautiful to look at in the package and glass tea pot.
First experience with Pink Rabbit was a lovely gift!
My first encounter with PARU was a gift of Pink Rabbit and Milky Oolong,
from a friend and I loved both, especially the pink rabbit. I'm still enjoying. Then, I purchased it as a May1st birthday gift with some of your other teas and accessories for my Stepdaughter. I know she is excited to try it but has not yet. I'm certain she will love it too.
Best Thing Since Lavender
As fragrant as Jasmine, as elegant as Lavender: a classic.
Pink Rabbit has an engaging profile. With the grounding qualities of marigold, the spike of citrus from cardamom (an unexpected source), and the subtle fruity profile of amaranth — all three qualities serve to both compliment and accentuate Dragonwell.
This tea is appropriate for both celebration and personal enjoyment. "A great take on Jasmine Green" is a serial understatement. This is a tea of its own and should be told to the world.
Yummy Pink Rabbit
Sad this is a limited edition green tea because it is fabulously delicate yet delicious at the same time. Always so impressed with Amy's special blends, they are such a treat!