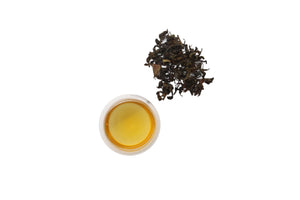 Harvested in summer, this Japanese oolong exudes a refreshing earthy scent and clean, muscatel tasting notes, reminiscent of bug-bitten teas from Taiwan. Although the Moriuchi family has been known primarily for their green tea production for almost 300 years, they have also manufactured oxidized teas—namely black and oolong—since 1999.
Details
Origin: Shizuoka, Japan

Cultivar: Koushun

Artisan: Moriuchi

Harvest: June 2022

Serving size: 2–4 g per cup

Recommended vessel: kyusu ("teapot" in Japanese)
Ingredient(s): oolong tea
Caffeine level: moderate
—
What is a reserve tea? Reserve teas are teas that offer in limited quantities due to the availability of the tea itself.
They were a gift for my daughters teacher. She just received them today. Thank you for the amazing options
Floral, Fragrant, Flush
A light 'shade' of flavor for an oolong, this tea exhibits a floral-to-fruity profile that flushes over the tongue leaving upon its sides a slight, but unmistakable hint of vegetal.
Noting the PARU Team's description, I perceived rosehip rather than muscat, though I am not versed in wine. Notwithstanding, Moriuchi's Koushun is undeniably fruity — this being said, as I have yet to indulge in bitten tea, my closest comparison, curiously, was Darjeeling!