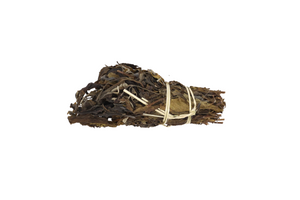 Only 70 available. Witch's Broom is a sheng, or raw, pu'er-style tea with a slightly sharp, sweet, and umami taste. Grown by tea farmer Lau.
Farmer's Note
"I want[ed] to create a delicious and neat sheng tea product that can be easily stored for many years without falling apart."
—

About Lau
Vietnamese tea farmer Lau comes from a family of tea farmers, most of whom live and work in Fujian, China, where they first learned their techniques. Lau lives in the mountains for easy access to ancient tea trees and ginseng. Similar to our team at PARU, he is passionate about resourcefulness and experimentation, which often results in new ways to enjoy traditional teas.
Details

Material: ancient tree (

Shan Tuyết

)
Origin: Tây Côn Lĩnh, Hà Giang Province, Vietnam
Artisan: Lau
Harvest Date: Spring 2021
Tasting notes: ginseng, umami broth
Ingredient(s): Camellia tea
Available Sizes
Recommended Tools
How to Brew
Gongfu Style: Add 4–5 grams of leaves per 6 ounces of heated water (90°C) to gaiwan or yixing teapot. After a brief rinse, steep for 5 – 15 seconds (up to 1 min for following steeps).
Teapot: Add 5 grams of leaves per 6 ounces of heated water (100°C). After a brief rinse, steep for up to 2 minutes.
Neat Is the Presentation, So the Taste
Weak to intrigue, I purchased not a tea but a literal "Witch's Broom", yet a fascinating pu'er I was indulged.
This sheng pu'er produces a bright, clear liquor and imparts an initial heady umami, followed by apricot and ginger notes upon subsequent steeps. An accompanying osmanthus or chrysanthemum fragrance can be detected.
True to the artisan's word, Lau has succeeded in the presentment of a "delicious and neat" tea that is pleasing to the eye both on its shelf and in its steep, only to reveal its best qualities from its cup.
For the gift
My husband brought this for the gift. We do not give and taste it yet.