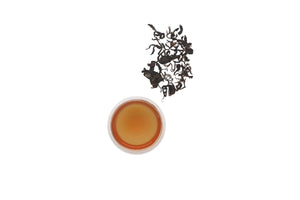 Picked from wild tea trees and roasted in 2018, aged, and re-roasted in summer 2022 with careful supervision by the Nguyen Family and community, this oolong is a rare and special treat. Compared to aged pu'er, which has noticeably earthy notes, this aged oolong offers a smoky-sweet tasting experience. Enjoy this oolong for multiple steeps to explore its deep tobacco-like aroma and sweet and smooth flavors, reminiscent of toffee and roasted hazelnuts. Due to its aging and multi-step roasting process, this oolong can be brewed with water at boiling point.
Details
Origin: Mộc Châu, Sơn La, Vietnam

Cultivar: Shan Tuyet

Artisan: Nguyen Family

Harvest date: Summer 2018

Roast date: Summer 2022

Serving size: 4–6 g per cup


Temperature: 210°F / 99°C

Steep time: First: 30 seconds (gaiwan or Yixing teapot), 2 min. (teapot); add 30 seconds to 1 minute for subsequent steeps

Recommended vessel: gaiwan, teapot
Ingredients: oolong

Caffeine level: moderate

—
What is a reserve tea? Reserve teas are teas that offer in limited quantities due to the availability of the tea itself.
Aged wood fire oolong
The wood smoke smell is fragrant but a little singular. Otherwise a solid flavor black tea.