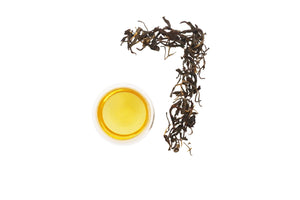 Our traditional Chiang Rai Black tea got a holiday twist that we hope you'll revisit throughout the year. We barrel aged the leaves for a year with rum from longtime partner Seven Caves Spirits, a San Diego-based small-batch distillery. The result? Accentuated black cherry notes, plus hints of chocolate, caramel, vanilla, and toffee.

Details
Origin: San Diego, CA (rum), Chiang Rai, Thailand (tea)

Varietal: Assam

Artisans: Amy Truong (blend), Geoff Longenecker (Seven Caves), Ammy (tea)

Harvest Date: Spring 2021
Ingredients: black tea, rum
Limited quantity. Only 50 made.
Caffeine level: high
—
What is a reserve tea? Reserve teas are teas that offer in limited quantities due to the availability of the tea itself.
An Real Experience
Quite the uncommon tea. The rum flavor is definitely there, and really amplifies the tea. Even without the rum barrel, the Chiang Rai seems to take very well to a little aging. I taste definite spice (cinnamon, cloves, etc. from the rum), a sharp sweetness close to a reduced honey, and range of black tea notes (malty, toffee etc.). The only downside is I've noticed the flavor flags quickly on repeat steeps, and requires a great deal of leaves to maximize that unique flavor. After trying a number of times the best settings I found (gong fu style here) are: 185 F, 5 g leaf/100 mL water, short rinse, 35 sec first infusion, +15 sec each subsequent. I get around 3 before it's attenuated past my liking. A few attempts at brewing it Western style proved not to my liking, and for a tea as refined (and pricey) as this I feel it worthwhile to only brew it gong fu (higher heat capacity in particular; clay, stoneware, etc). I'd definitely recommend giving it a try for special occasions, but be prepared to use substantially more leaf to get the fullest experience.