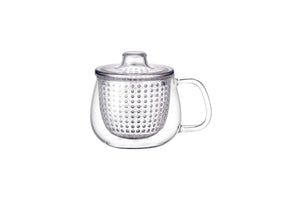 Appreciate the beauty of your favorite loose leaf teas and tisanes with the Kinto Unimug, a lightweight three-piece set that allows you to steep with ease. Recommended for whole leaf teas. For finely cut leaves, we recommend supplementing with our biodegradable tea filters.
*Tea tray sold separately.
—
Specs
Dimensions
:
φ78 x H90 x W122 mm; 350 ml /  
ø3.2 x H3.6 x W4.8 in; 11.9 oz
Material: [Cup] heat-resistant glass / [Lid, strainer] copolyester.
Care instructions: Wash with care. Dishwasher safe. Do not use strainer in microwave.
About KINTO: KINTO is a Japanese brand aspiring to create products that enrich your everyday life.

Kinto Unimug (Brew-in cup)
Love my personal brew-in cup for a perfect cup of tea anywhere ago. I am very happy I found it at PARU Tea Bar, San Diego.
The best option for single servings
I love all of the tea ware PARU has to offer and the Kinto Unmug is no exception. My brother had bought one recently and I was so jealous I had to get one myself. Being able to see all of the beautiful loose leaves and watch my water turn into tea has definitely added to the relaxing experience ❤️
Best tea around
They have so many options and beautiful smelling leaves. Definitely recommend getting your next tea bags here. All are steep yourself and amazing!
Very cute!
I like how lightweight and small this cup is. Though it being so light makes me worry I'll break it. The only complaint I have is that the holes for the strainer are just a tad too big. Depending on the tea I put in it, I sometimes end up with a good amount of tea leaves in the bottom of my cup.