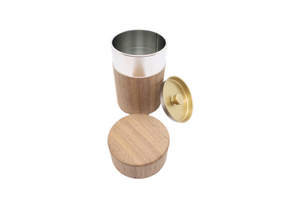 Our KOTODO Natural Wood Tea Canister is hand-wrapped in thinly sliced real wood. 
Because it is real wood, the color and grain will vary. Product details:
Tin with natural genuine wood veneer

With gold color tin internal cap

Holds about 5.3 oz or 150 g of tea
Made in Japan
—
About our partner: Kotodo Takahashi Coporation, or KOTODO, has been hand-crafting tea canisters for 111 years.  The company prides itself in the meticulous effort it puts their quality and customer satisfaction, and their tin tea canisters are regarded as the best in the industry.