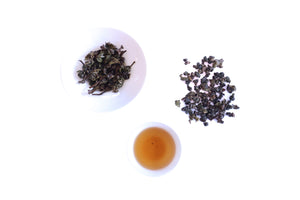 Grown in the province of Sơn La, MC (Moc Chau) Oolong 12 is produced from the Jin Xuan cultivar ("Kim Tuyen" in Vietnamese). Roasted at 30 percent, this tea offers a familiar balance of creamy, fruity, and nutty while also introducing an exquisite biscuit-like sweetness as a "gui fei," or bug-bitten, oolong. Rinse before steeping.
Ingredients: oolong tea
One of my faves!
I've tried many oolong teas from Paru and MC Oolong 12 is one of my favorites to start my day. Very flavorful and smooth to drink. Highly recommend for those new to oolongs.