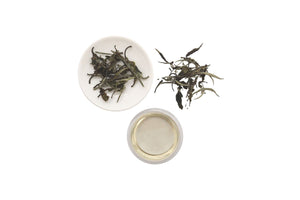 Only 3 kg available. Minimally processed and antioxidant-rich, our Moonlight White tea offers a fresh aroma—like picking magnolias or walking through a meadow in spring—and succulent tasting notes—hints of ripe apricots and clover honey. Thai farmers hand-pick only the youngest buds to make this elegant silver needle white tea. Recipient of the Gold Prize in Japan for white tea.
Details
Origin: Chiang Rai, Thailand
Cultivar: Assam
Artisan: Ammy
Harvest date: May 2022
Serving size: 4 g per cup

Temperature: 175°F/79°C
Steep time: 4–5 minutes

Recommended vessel: gaiwan or teapot
Ingredients: white tea

Caffeine level: low

—
What is a reserve tea? Reserve teas are teas that offer in limited quantities due to the availability of the tea itself.
give me moonlight
clean and smooth, i love it in the afternoon or when i just need to be alone with my thoughts. it doesn't over excite my sensitive to caffeine self. a gentle nudge.
Pure PARU
Moonlight White is a delicate, pure-tasting tea. Drinking a cup of it makes a person feel healthier. I'm glad I found PURA (through a gift card). Love your Signature breakfast tea, too!
Delicate and unique white tea
I recently had the good fortune to visit Paru on vacation and I am so glad I did! Everything from their presentation, their tea sourcing, options, and the kindness of the owner are A++
This particular white tea is rare find! It has some qualities similar to silver needles but it is also richer, more robust, and with a greater depth of flavor. Overall, I am incredibly satisfied with my purchase and will continue to look to Paru for my future tea needs!