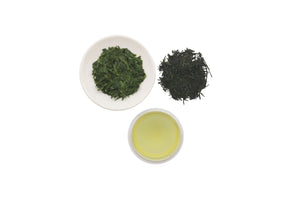 Shincha (新茶, or "new tea") is the first harvest of the year, and this pre-ordered batch arrived directly from Uji, just south of Kyoto. Time of picking and temperature control when steaming are crucial to maintaining its fresh aroma, creamy texture, and delicate flavor, which one might describe as leafy and floral with a hint of sea salt.
Details
Origin: Wazuka, Kyoto, Japan
Cultivar: Meiryoku
Artisan: Masa
Harvest date: May 2022
Serving size: 2–4 g per cup; 6-8 g for standard teapot
Temperature: 175°F / 79°C

Recommended vessel: kyusu ("teapot" in Japanese) or miniature teapot
Ingredients: green tea

Caffeine level: moderate

—
What is a reserve tea? Reserve teas are teas that offer in limited quantities due to the availability of the tea itself.