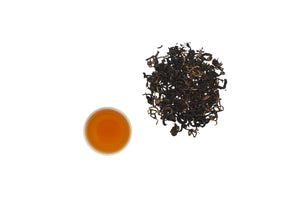 The main difference between this tea and other breakfast teas is that this one is single origin, sourced straight from the high mountains of Hà Giang, Vietnam. High-mountain tea is known for its great mouthfeel. You'll still get the strength you'd expect in a breakfast tea but after multiple steeps, you'll notice some honey-like notes. Drink straight or with frothed milk.

Details
Origin: Phin Ho, Hà Giang, Vietnam

Elevation: 1300m

Cultivar: Shan Tuyết

Artisan: Ly Choi Nhan

Harvest Date: June 18, 2022
Ingredients: black tea
Caffeine level: high
Signature Breakfast Tea
Great tasting tea. I like this tea in the morning, a little strong with a splash of milk. Goes well with breakfast and reading the newspaper. Paru teas are the best and I am glad we stumble upon your tea store when we were visiting San Diego.
Good Breakfast Tea
This breakfast tea is really quite good. It doesn't have the same profile (which is what I was hoping) as my very favourite Paru tea - Saigon Breakfast. The tea is smooth and mellow for a breakfast tea. It does have a slight aftertaste I can't identify. Still, it's lovely.
An Appropriate Breakfast Tea
This tea is mellow and smooth, with an oak-to-stone flavor profile and possibly a tangy finish if you labor over your cup.
Perhaps perfect for the innate morning person or those who like to spend time waking up. I can see myself easing into a weekend with this, but it is not for those looking for the shock and malty oomph I am fond of in, say, an Irish breakfast tea.