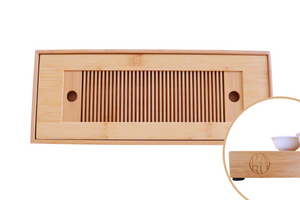 Our natural bamboo tea tray was designed with ample space for your favorite brewing vessels, tasting cups, tea pets, and other accessories. Multiple slats make it easy to catch excess water and tea liquor. Features a removable top for easy cleaning, plus the PARU seal.
Material: Bamboo
Dimensions: 15" x 6" x 1"
Care: Wipe with cloth or hand wash and air dry after each use.
Made in China
Above and beyond
I love the ambiance. As soon as you walk in you are greeted by a friendly staff. I was fortunate enough to have Jackie help me. I learned alot about tea from her, I had a tea drink while we walked the store and she answered all my questions. So much so that I was moved to purchase a tea set with 3-different teas. Also a teapet. I also joined the Paru mailing list. Thank you Jackie
Paru pickup review
I had a great experience with my order. The gentleman in the La Jolla location helped me pick out some additional items and even took time to put everything in a gift bag with tissue paper. Really appreciated him!
Most Aesthetic Tea Tray
I love the bamboo tea tray. It is minimal yet aesthetic and practical. It is a nice addition to my existing tea/coffee station I have set up at home. I look forward to brewing tea more often now as the bamboo tea tray elevates the overall experience.