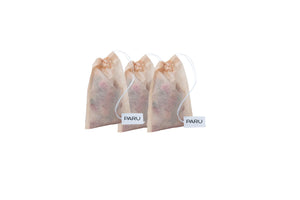 Easily maintain your loose leaf tea ritual anywhere with our unbleached paper filters. Scoop your desired amount of tea into a bag, gently pull the string, and place it into your steeping vessel.
Chlorine-free and biodegradable paper.
Best tea filters
I've used other paper tea filters before and these are by far the best! Love that they are used like a regular tea bag and close tightly. Plus, since there's a string attached, there is no need to burn your fingers or dirty a spoon when taking out of the hot tea.
Convenient!
I love using these! It helps me to prep for the week ahead and use it when I'm at work! I love that it's biodegradable and doesn't mask the taste of the tea.
Perfect little tea bags
Perfect little tea bags - we picked these up at Paru while visiting a friend in SD. After running out, we discovered there are no local shops in our area selling these bags. Now we order these online from Paru. Good quality tea bags - never had an issue. Shipping was fast.
Blue chamomile
Very nice, smooth, clean, fresh taste, significantly better than those purchased in markets.
I am in love
I get a lot of them in the box, they aren't made from super processed paper, and they function. Perfect!