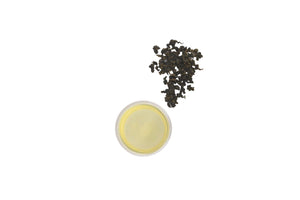 Our Silk Jade Oolong was so named after its balanced flavor profile, which lands somewhere in between buttery, creamy, and slightly floral. Its Qing Xin cultivar, also known as Green Heart, was first popularized in Taiwan but has since made its way to newer tea-producing countries such as Vietnam, where this one was grown, picked, and processed. Enjoy for multiple infusions.
Details
Origin: Mộc Châu, Sơn La, Vietnam

Cultivar: Qing Xin


Artisan: Nguyen Family

Harvest date: May 2022

Serving size: 4–6 g per cup

Temperature: 212°F / 100°C

Steep time: Traditional - 30 seconds; Teapot - 2–4 minutes

Recommended vessel: gaiwan or Yixing teapot
Ingredients: oolong tea

Caffeine level: moderate

—
What is a reserve tea? Reserve teas are teas that offer in limited quantities due to the availability of the tea itself.
New Favorite Tea
I love this tea. It's smooth, sweet, kind of floral but also kind of buttery. It's perfect for any time of day.
Silk Jade Oolong is top tier
I don't know how I went this long without it, so smooth, mellow, and flavorful. Easily one of my favorites.