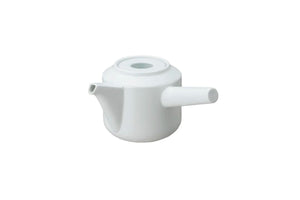 LEAVES TO TEA invites you to explore tea with a fresh and open mind. New to the collection are tea cups combining high quality stainless steel and glass, designed for brewing a delicious single cup of tea. The cup has a double wall structure that makes drinks look like they are floating in the air. The spacious tea strainer allows tea leaves to bloom widely inside and is suitable for a wide range of tea leaves. The lid is structurally designed so it does not get hot easily, and it also functions as a rest for a strainer or tea bag.​

—
Specs
Dimensions: φ55 x H85 x W155 mm; 300 ml / φ2.2 x H3.4 x W6.2 in; 10 oz

Material: Porcelain
Care instructions: Wash with care. Microwave and dishwasher safe. Use only for its intended purposes.
About KINTO: KINTO is a Japanese brand aspiring to create products that enrich your everyday life.