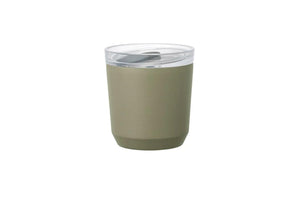 TO GO TUMBLER is ideal for various scenes throughout your day, working or relaxing. The newly added version comes with a plug which prevents spills on the go. The rotating plug can be opened and closed easily, letting you drink with ease. Each detail is designed to assure comfortable drinking and easy washing. Vacuum insulated, the tumbler retains the temperature and flavor of drinks for a long time.

—
Specs
Dimensions: φ3.5 x H3.8 in (without cap H3.3 in); 8.2 oz

Material: 18-8 Stainless steel (powder coating) Copolyester, Silicone. BPA free.
Care instructions: This is a tumbler for beverages. Wash with care. Dishwasher safe. Use only for its intended purposes.
About KINTO: KINTO is a Japanese brand aspiring to create products that enrich your everyday life.