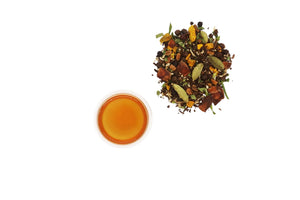 Calamansi, spice, and everything nice! This soothing blend incorporates some of the most popular ingredients used in Southeast Asian recipes, like calamansi, ginger, and pandan, but with an added twist—a sprinkling of Assam black tea. That way, you get that caffeine boost that you don't usually find in herbal-forward teas.

Details
Origin: PARU Tea Lab Blend
Blender: Amy Truong
Hand-blended in small batches in the PARU Tea Lab in San Diego.
Ingredients: black tea, bergamot oil, calamansi, turmeric, white ginger, pandan leaves, thai lime leaves, black peppercorn, star anise, green cardamom, cinnamon
Caffeine level: medium-high 
—
What is a reserve tea? Reserve teas are teas that offer in limited quantities due to the availability of the tea itself.
New favorite
I loved the milk oolong (from 2019) and have to say calamansi turmeric is my new favorite! Super balanced, savory with a bit of sweetness I'm going through it fast!
Loved the tea
Im not kidding when I say I loved this tea so much. My only complaint is how expensive it is.