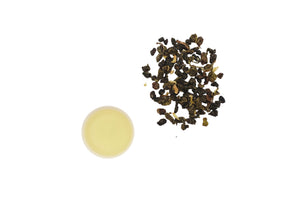 Grown and blended in Vietnam, this tea features the buttery Cui Yu oolong—also called "Green Jade"—with fresh jasmine notes. Although close in flavor to the classic green tea version, Emerald Jasmine offers a fuller body and hints of pineapple and melon.

Details
Origin: Lâm Đồng, Vietnam

Elevation: 900 – 1000m

Cultivar: Cui Yu (Green Jade)

Artisan: Dăng Truong Lam

Harvest Date: May 2023
Ingredients: oolong tea, jasmine flowers
Caffeine level: moderate
Uncle Iroh would love this tea.
I really enjoy this tea! It has a smooth, sweet, and mellow flavor with hints of citrus and melon in the finish. I prepare it using the cold brew method, which yields great results.
One of the best teas I've tried
I got this tea for my mom for Christmas, but I kept drinking the tea I got her so I had to buy some of my own. This stuff is seriously delicious, with a fantastic blend of oolong and jasmine flavors.
Amazing
Jasmine tea is my favorite, and this blend is delicious. I was surprised by how noticeable the melon notes are. Will definitely order again.