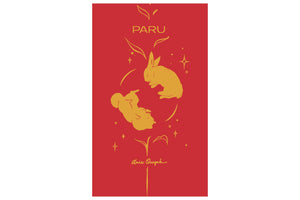 Celebrate 2023, the Year of the Rabbit, with the wonderful tradition of gifting lì xì (lucky red envelopes). Each envelope includes a tea gift and will remain unsealed should you wish to include additional gifts.
Original Lunar New Year design by artist Anie Quynh. Gold foil printed on weighted (80 lb) paper envelopes (3 1/2 x 6 1/2). 
About the artist. Anie Quynh is a contemporary artist known for her ethereal illustrations. Heavily influenced by her Vietnamese culture, her designs are inspired by Eastern folklore, traditional Asian art, and calligraphy. Website | Instagram
—
If you are shipping this gift directly to the recipient(s), you may include a brief message in the Notes section.