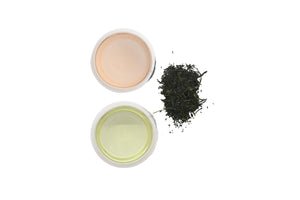 "Sun Rouge (sanrujyu)" is a rare purple leaf cultivar made from a cross between Camellia Sinensis and its lesser-known wild relative, Camellia Taliensis. Add a touch of citrus—we recommend lemon juice—and watch the liquor reflect the colors of a warm to intense sunset. We recommend using this playful sencha as a base for cold brew tea, Arnold Palmer, or your next handcrafted drink.

Details
Origin: Shizuoka, Japan

Cultivar: Sun Rouge (sanrujyu)

Artisan: Moriuchi

Harvest: June 2022

Serving size: 2–4 g per cup

Recommended vessel: kyusu ("teapot" in Japanese)
Ingredient(s): green tea
Caffeine level: moderate
—
What is a reserve tea? Reserve teas are teas that offer in limited quantities due to the availability of the tea itself.
The Peridot Rose
An enthralling composition of tasty tea and entertaining chemistry, the sanrujyu-cha certainly captured my attention.
Mixed with lime, the peridot green of the original liquor took on a milky rose hue — its salty, gyokuro-like nuttiness performing a duet with my favorite citrus.
How fitting that my birth month is August.